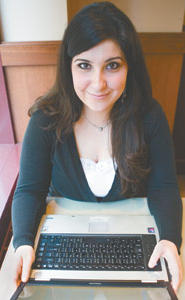 Why newspapers pay attention to blogs:
Then she'll post it, under the screen name Georgia10, on the front page of liberal blog Daily Kos (dailykos.com), which gets between 400,000 and 800,000 unique visitors daily. The Tribune's daily circulation, just for some context, is about 586,000; its Web site gets a little over three million unique visitors per month, which averages out to around 100,000 a day. (The Tribune won't release stats on how many visitors its blogs or news columnists get.)

— Whois is Georgia10? by Christopher Hayes, Chicago Reader, fall 2006
Georgia Logothetis,
now 24
, was a 23 year old college student when that article was written, and she was already the most-read political columnist in Chicago. This doesn't tend to happen in newspapers. It can happen online, where the management pyramid can be mighty flat.
How did she do it? Political connections? Graft? Tokenism? Nope. Many hours of research, and
More than a deft prose style and an outraged disposition, the trait held in the highest regard in the lefty blogosphere is prodigiousness. The more you post, the more readers you attract, and on this front, Georgia10 is the site's workhorse.
Merit can win online.
-jsq