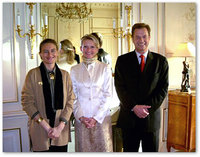 In the U.S.,
it's difficult for a municipality to put up a wireless Internet service even if it's a disaster zone and the telco hasn't gotten its POTS service back up
, because the duopoly doesn't want the competition. Meanwhile, in France:
Municipalities, cities, states, territories and regions are driving the French municipal (wireless and wired) broadband uptake as newly authorized by law. A new article of French "code général des communications" passed in June 2004 (law ref code is L-1425-1) gives these public entities the following rights :

build, subsidize and develop "passive" telecom infrastructure and provide/transfer them to carriers or independent local users.
build open networks on a given territory and provide/transfer them to a territorial carrier.
operate open telecommunications networks in respect of regulations.
provide telecommunications services to end users.

— Municipal broadband in France, by Esme Vos, MuniWireless, at 7:42 PM on September 5, 2005
The municipality does have to demonstrate that there isn't already a similar service, but given the "open networks" aspect, that shouldn't be difficult. Could this have something to do with why France is ahead of the U.S. in Internet connectivity and speed?
Apparently so:
Nowadays there are over a hundred projects, small and big. One famous one One famous one is the plan to do FttH in Hauts-de-Seine, the department chaired by Mr Sarkozy until he became President. Sarkozy was the man personally proprosing the FttH roll out in Hauts de Seine.

— Some French muni BB inspiration to Maybe Rep's Boucher & Upton? Dirk H. van der Woude, Interesting People, 5 August 2007
He points out that picture FCC Commisioner Tate and ARCEP Commissioner Gauthey have met, as in the picture. Perhaps soon we'll get a U.S. president who might be influenced by French president Sarkozy on this subject.
-jsq