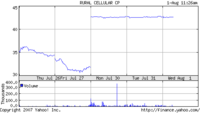 Previously I wondered where the big wireless telephone carriers would find enough bandwidth to buy outside the pending 700Mhz auction, as
Republican Commissioner Robert M. McDowell
suggested. Well, the place to look is the stock market. A day before the FCC decision of yesterday,
the stock of Rural Cellular Corp (RCCC) went up about 30%
on
news that Verizon was buying RCCC
. Such a sale has to have been pending for some time; probably at least six months. So it seems that McDowell's assertion is useful political cover for Verizon, if not prediction of future acquistions. Maybe both; I guess we'll see.
-jsq