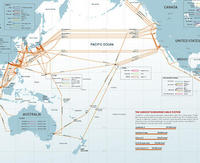 Google may be getting into international infrastructure as well as domestic:
Google is planning a multi-terabit undersea communications cable across the Pacific Ocean for launch in 2009, Communications Day has learned.

The Unity cable has been under development for several months, with a group of carriers and Google meeting for high-level talks on the plan in Sydney last week.

Google would not strictly confirm or deny the existence of the Unity plan today, with spokesman Barry Schnitt telling our North American correspondent Patrick Neighly that "Additional infrastructure for the Internet is good for users and there are a number of proposals to add a Pacific submarine cable. We're not commenting on any of these plans."

However, Communications Day understands that Unity would see Google join with other carriers to build a new multi-terabit cable. Google would get access to a fibre pair at build cost handing it a tremendous cost advantage over rivals such as MSN and Yahoo, and also potentially enabling it to peer with Asia ISPs behind their international gateways – considerably improving the affordability of Internet services across Asia Pacific.

Google plans new undersea "Unity" cable across Pacific by Grahame Lynch, CommsDay ASEAN, September 21st, 2007
Coyly refusing to confirm nor deny, Google has nonetheless left bread crumbs along trail of its ambition:
Google also hinted at its ambitions in job advertisements earlier this year. In one for a submarine cable negotiator, it specified a job description that said in part "These negotiators will work closely with vendors to identify highly cost-effective solutions under the most favorable commercial and technical terms possible. They will also be involved in new projects or investments in cable systems that Google may contemplate to extend or grow its backbone."
And this:
Communications Day reported on 8 February that Google had begun peering with ISPs, enabling them to reduce their reliance on transit services via Tier 1 non-peering major IP networks such as Level 3 and AT&T.
This may be the best part:
Another source said that Google's move could be disruptive to the capacity industry as it takes a major source of traffic – and revenue – out of the general market place.
I would bet that other source is from the traditional telecom industry, which as far as I'm concerned could use some disruption.
Is that some whiff of competition coming from Google's direction? No wonder the coyotes of telecom are howling!
-jsq