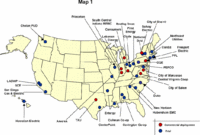 U.S. Commerce Secretary hails "dramatic growth of broadband" in the U.S., citing a report from National Telecommunications and Information Administration (NTIA). That report not only uses the U.S. tinyband definition of 256Kbps as "broadband", it still uses ancient metrics such as this:
By December 2006, 91.5 percent of ZIP codes had three or more competing service providers and more than 50 percent of the nation's ZIP codes had six or more competitors.

— Gutierrez Hails Dramatic U.S. Broadband Growth, Government Technology, Feb 1, 2008, News Report
So any provider that has service available to at least one user in a ZIP code is counted as a "competitor".
Meanwhile, the ARRL says the NTIA report inflates broadband over powerline (BPL) figures: Continue reading →