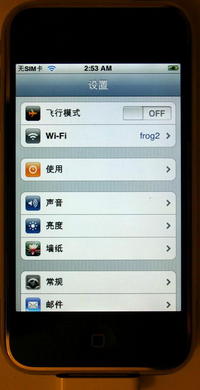 Can't get an unlocked iPhone inthe U.S.? Try China:
The iPhone is readily available in computer superstores in most large Chinese cities. In Beijing's Zhong Guancun, a 15-story mall filled with technology vendors, almost all the stalls are stocked. Two weeks ago, the blogger of Too Many Resources for the iPhone asked several of these vendors whether they could sell him 100 iPhones. They all answered "No problem."

— China's New 'Love Craze' — Black Market iPhones, By Aventurina King, Wired, 11.19.07 | 7:00 PM
These are unauthorized uninsured iPhones. Apparently they aren't copies: they're the real thing. The iPhone is manufactured in China, and these ones are shipped out and back through Hong Kong or eBay.
Meanwhile, back in the U.S. of A., you're stuck with an iPhone that works only on AT&T's network, while the FCC finagles a spectrum auction so lockin will continue and plans further media consolidation so you won't know anything better.
Bruce Sterling sums it up:
(((China is the New America because, not only do they have sexy movies, they have iPhones that actually work and aren't choked to death with legalistic BS IP consumer lock-in.)))

— China: The New America (part II), By Bruce Sterling, Beyond the Beyond, November 20, 2007 | 7:44:11 AM
-jsq