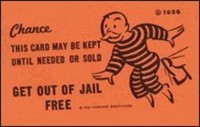 Yes, I know, the FISA bill just passed by the Senate doesn't preclude criminal liability. But Bush can, by pardoning for any and all crimes committed, just like Ford did for Nixon; the man who commuted Scooter Libby's sentence won't balk at that. And the bill does do away with civil liability, so the telcos never have to pay for illegal warrantless blanket wiretapping, and the criminal evidence against the politicians that hired it is hidden.
But, to be Chicago kind of candid, whatcha gonna do about it?

Today, the freshman senator from Illinois voted in favor of the FISA bill that provides retroactive legal protection to cooperating telecom companies that helped the feds eavesdrop on overseas calls. Up until a few weeks ago — let's see, that would be shortly after the last primaries settled the Democratic nomination and terminated what's-her-name's once frontrunning campaign — Obama adamantly opposed the bill. "Unequivocally" was the word his people used.

— Nomination in hand, Obama stiffs the Dem left on FISA vote, Andrew Malcolm, L.A. Times, 9 July 2008
When did the U.S. lurch so far to the right that jetissoning the Fourth Amendment is considered running to the center?
The "compromise" the bill was supposed to represent is nonexistent; Continue reading →