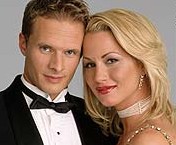 The FCC seems to have no friends these days:
Fox Television said it won't pay its part of a $91,000 indecency fine levied recently by the Federal Communications Commission for a 2003 episode of a reality TV show that featured strippers and whipped cream.

Fox said in a statement that it won't pay the fine imposed against five of its stations because it believes the FCC's decision that the show in question was indecent was "arbitrary and capricious, inconsistent with precedent, and patently unconstitutional." The network said it will appeal the FCC's decision and proposed fine on behalf of 13 stations….

— Fox TV Refuses to Pay Indecency Fine by FCC, By Amy Schatz, Wall Street Journal, 24 March 2008
Fox lifted the wording from a
2007 court ruling
, apparently about a different show. Oh, right:
that one
.
Maybe if the FCC would get back to actually dealing impartially with real matters of public policy, it might garner public and Congressional support.
-jsq