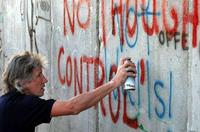 Photo: AP Photo/Magnus Johansson-MaanIm
Political censorship?
After concluding our Sunday night show at Lollapalooza, fans informed us that portions of that performance were missing and may have been censored by AT&T during the "Blue Room" Live Lollapalooza Webcast.

When asked about the missing performance, AT&T informed Lollapalooza that portions of the show were in fact missing from the webcast, and that their content monitor had made a mistake in cutting them.

— LOLLAPALOOZA WEBCAST: SPONSORED/CENSORED BY AT&T? News, PearlJam.com, 7 August 2007
So, "a mistake".
Uhuh.
But it gets better. Continue reading →