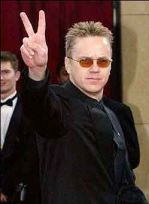 Tim Robbins, famous actor, writer, director, and producer, was invited by the National Association of Broadcasters to give a talk. Then they turned off all the cameras. But they forgot to tell the audience to turn off their voice recorders:
Now some of you are concerned with that unrelenting pesky competition. You know, the new technologies; the Internets and satellite radio and television. The problem is there are too many people in this country that take the notion of creativity and invention too damn seriously. Just when one technology is centralized, conglomerated, monopolized, along come new technologies and delivery systems to threaten the good work born of deregulation. Just when we were getting close to a national playlist for our music, satellite technology is threatening to provide music that people actually want to hear. Just when we were close to a national news media, providing a general consensus on what the truth is, along comes the Internets that allow its users a choice on the kinds of news it watches. And the You Tube. My God we've got to stop them. Recently when we were about to enjoy our great national pastime of 'tearing apart a presidential candidate with relentless repetition of ugly things his friend said', You Tube provided the candidates reasoned response and millions watched and responded positively.

Well you here at NAB have the power to stop this dangerous technology. The question is, how? I respectfully suggest that you do what others have done when facing the competition of new technologies. Get compromising information on your enemy and expose them in a sex scandal. Or call them a racist, or better yet a traitor. That not only undermines your competitor, but provides the public with fantastic entertainment.

— The Power and Responsibility of our Nation's Broadcasters, By Tim Robbins, The following is my opening keynote speech for the National Association of Broadcasters Show in Las Vegas, which I delivered Monday night. 14 April 2008
He had a fine time lampooning that the news media do all the time.
And then he got serious:
Continue reading