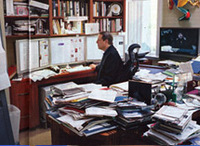 Al Gore's home office.
(Time Magazine)
John McCain's speech in Kenner 3 June 2008 got truncated by the news media when they switched to Obama's speech that same night. The
versions on YouTube
reflect that problem, since they were made from TV. They also suffer from TV network labeling and chyrons chatting about the opposition.
Barack Obama's speech that same night has network logos and chyrons, but at least it is complete. However, when Al Gore endorsed Obama on 17 June, the networks all cut away immediately after Gore finished talking, because only the endorsement was news, and they weren't interested in what the candidate himself might have to say. But Gore sent out email to supporters earlier that day, and numerous blogs posted it (Huffington Post, DailyKos, Washington Post, etc.). And Obama's campaign streamed the whole event live, so nobody had to watch network logos, chyrons, commercials, or talking heads, and they could see all of both speeches. Although, oddly, neither the Gore nor the Obama speech seems to be on YouTube yet.
Political campaigns can use the Internet to bypass the traditional media.
-jsq