Leslie Cauley
writes in USA Today
:
The average Internet download speed in the USA is 5.1 megabits per second
A programmer on a project I'm working on just moved back to Finland. He's got 30 megabits per second, and he could get 100 Mbps if he wanted to pay a little more. Meanwhile, back in the U.S.A., we're lucky to get 3Mbps through DSL or 8Mbps through cable. Anywhere in Japan you can buy 100Mbps for about the same price per month as we pay in the U.S. for 3Mbps. I don't think you can even buy anything as slow as 8Mbps in Japan anymore.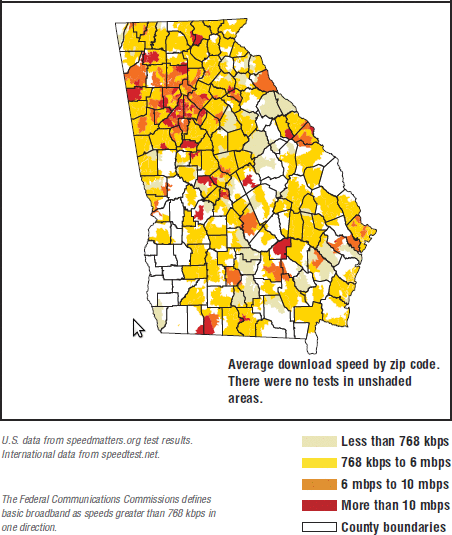 USA Today got its data from a report by Communication Workers of America, which says:
New research indicates that between 2007 and 2009, the average download Internet speed in the United States has increased by only 1.6 megabits per second (mbps), from 3.5 mbps in 2007 to 5.1 mbps in 2009. At this rate, it will take the United States 15 years to catch up with current Internet speeds in South Korea, the country with the fastest average Internet connections.
U.S.A.! We're dead last and not trying very hard to catch up!
It's not just the U.S. as a whole that's a backwater, some parts are worse. Let look at Georgia. Don't stop with the interactive display, which appears to show the fastest tested, click on through to the PDF report that shows a more realistic picture of speeds people actually get; it has the map shown above.
Atlanta is as usual well served, at least by U.S. standards, which is 1/10 the speeds you can get in a couple dozen other countries.
But look at the other half of Georgia. See all the grey in the southeast of the state, between Valdosta and Savannah, and between Macon and Valdosta (GA-01)? Less than 768 kilobits per second. That's dialup. Which means nobody there will be picking up this PDF, or posting pictures on facebook, or watching clips of the Daily Show on YouTube, or following what their representative is up to.
And that's just the people who actually use the Internet. Most people don't. See all the white areas? There are few speed tests there because there are so few people there using the Internet to test.
Last week Rep. Sanford Bishop (D GA-02) said all information about the new health care reform would be online. That's a good 21st century step. But much of his own district (southwest Georgia) won't be able to get it that way; they're still mired in the 20th century.
In the 1930s there was a similar situation with electric power, as FDR discovered when he stayed at Warm Springs in south Georgia to treat his polio. Result: the Rural Electrification Authority (R.E.A.), which brought electricity to rural America and made the rest of FDR's New Deal welcome to rural Americans. More on that in the next post.
-jsq