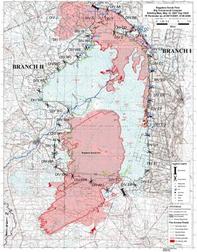 Now here's an interesting use of the web:
InciWeb is an interagency wildland fire incident information management system. The system was developed with two primary missions: The first was to provide a standardized reporting tool for the Public Affairs community during the course of wildland fire incidents. The second was to provide the public a single source of information related to active wildland fire information.

A number of supporting systems automate the delivery of incident information to remote sources. This ensures that the information on active wildland fire is consistent, and the delivery is timely.

— About InciWeb, Accessed 13 May 2007
The small map is for
the Bugaboo fire that started near Waycross Georgia and burned more than 300,000 acres through the Okefenokee swamp into Florida
, as of 12 May 2007, with two interstates closed (I-10 and I-75). Sure you can
read about it on CNN
and other mass media; when they realized much of Florida was closed, they picked up on the story.
But if you want to know what was going on in detail as it happens, the web is the place. The Ware County (Waycross) fires were posted by Satilla Regional Medical Center, with links to Inciweb, Georgia Forestry, Georgia Office of Homeland Security, National Weather Service, and others.
Plus, down at the bottom, there are links to pictures apparently taken by Satilla personnel and to some others on Yahoo.
Searching for wildfire on Flickr turns up more, especially of smoke. (OK, I took that one myself.)
Add to that Intellicast's satellite visible imagery loop and you've got visibility into what's going on with these fires from top (affected areas) to bottom (firefighters, medical, bypassers, etc.), from right now to time review to predictions. More than you would ever get from a newspaper or TV, and you don't have to wait for the next issue to find out.
Not to mention you can find out about things that affect you that might not make the mainstream media. Those last two pictures are of the fire in Roundabout Swamp in Atkinson County, with smoke blowing through Lowndes County and past my house in Georgia. When I want to know where is that smoke coming from today, I don't look on CNN; I turn to the web. (Bugaboo smoke is thicker and smells mustier than Roundabout smoke, by the way.)
This isn't just for Georgia or Florida, of course; we've already seen that L.A.F.D. posts pictures from the scenes of fires.
And none of these resources were developed by an ISP as part of its content-delivery supply chain.
-jsq