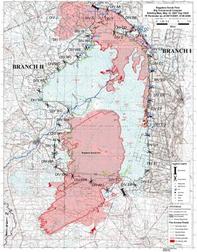 Now here's an interesting use of the web:
InciWeb is an interagency wildland fire incident information management system. The system was developed with two primary missions: The first was to provide a standardized reporting tool for the Public Affairs community during the course of wildland fire incidents. The second was to provide the public a single source of information related to active wildland fire information.

A number of supporting systems automate the delivery of incident information to remote sources. This ensures that the information on active wildland fire is consistent, and the delivery is timely.

— About InciWeb, Accessed 13 May 2007
The small map is for
the Bugaboo fire that started near Waycross Georgia and burned more than 300,000 acres through the Okefenokee swamp into Florida
, as of 12 May 2007, with two interstates closed (I-10 and I-75). Sure you can
read about it on CNN
and other mass media; when they realized much of Florida was closed, they picked up on the story.
Continue reading