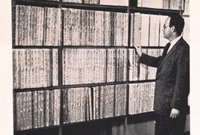 Sometimes not listening to customers can be fatal to an industry:
While there are factors outside of the labels' control — from the rise of the Internet to the popularity of video games and DVDs — many in the industry see the last seven years as a series of botched opportunities. And among the biggest, they say, was the labels' failure to address online piracy at the beginning by making peace with the first file-sharing service, Napster. "They left billions and billions of dollars on the table by suing Napster — that was the moment that the labels killed themselves," says Jeff Kwatinetz, CEO of management company the Firm. "The record business had an unbelievable opportunity there. They were all using the same service. It was as if everybody was listening to the same radio station. Then Napster shut down, and all those 30 or 40 million people went to other [file-sharing services]."

— The Record Industry's Decline, Record sales are tanking, and there's no hope in sight: How it all went wrong, by Brian Hiatt and Evan Serpick, Rolling Stone, Posted Jun 19, 2007 2:29 PM
How close were they? A billion here, a billion there:
It all could have been different: Seven years ago, the music industry's top executives gathered for secret talks with Napster CEO Hank Barry. At a July 15th, 2000, meeting, the execs — including the CEO of Universal's parent company, Edgar Bronfman Jr.; Sony Corp. head Nobuyuki Idei; and Bertelsmann chief Thomas Middelhof — sat in a hotel in Sun Valley, Idaho, with Barry and told him that they wanted to strike licensing deals with Napster. "Mr. Idei started the meeting," recalls Barry, now a director in the law firm Howard Rice. "He was talking about how Napster was something the customers wanted."
Napster publicly offered them a billion dollars and they turned it down and forced Napster to shut down. They they did nothing while online music lovers moved to other P2P services. Then they started suing the customers. Now some of their lawsuit targets are suing back, and sales are dropping through the floor.
There are other factors such as the rise of music sales through Wal-Mart and Best Buy, but basically the big record labels shot themselves in the foot, or somewhat higher. Now they have shelves of good content that nobody wants to buy, or at least nobody wants to buy it from them.
This is unfortunate in the sense that the last thing we need is fewer media of any kind. However, there are alternatives, such as Internet Radio, Starbucks, Amazon, etc.
Perhaps other traditional content and distribution companies will note this effect of fighting the customers and change their ways. Or maybe they'll also find themselves in terminal decline, to be replaced by better competitors.
-jsq