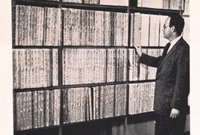 Sometimes not listening to customers can be fatal to an industry:
While there are factors outside of the labels' control — from the rise of the Internet to the popularity of video games and DVDs — many in the industry see the last seven years as a series of botched opportunities. And among the biggest, they say, was the labels' failure to address online piracy at the beginning by making peace with the first file-sharing service, Napster. "They left billions and billions of dollars on the table by suing Napster — that was the moment that the labels killed themselves," says Jeff Kwatinetz, CEO of management company the Firm. "The record business had an unbelievable opportunity there. They were all using the same service. It was as if everybody was listening to the same radio station. Then Napster shut down, and all those 30 or 40 million people went to other [file-sharing services]."

— The Record Industry's Decline, Record sales are tanking, and there's no hope in sight: How it all went wrong, by Brian Hiatt and Evan Serpick, Rolling Stone, Posted Jun 19, 2007 2:29 PM
How close were they?
Continue reading