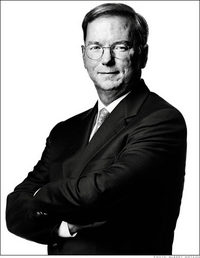 Google CEO Eric Schmidt wrote to FCC Chair Kevin Martin Friday saying Google will commit the reserve price of $4.6 billion to the 700Mhz wireless spectrum auction if it goes forward with four open access conditions Google proposed in a July 9 letter. The four conditions are:
Open applications: Consumers should be able to download and utilize any software applications, content, or services they desire;
Open devices: Consumers should be able to utilize a handheld communications device with whatever wireless network they prefer;
Open services: Third parties (resellers) should be able to acquire wireless services from a 700 MHz licensee on a wholesale basis, based on reasonably nondiscriminatory commercial terms; and
Open networks: Third parties (like internet service providers) should be able to interconnect at any technically feasible point in a 700 MHz licensee's wireless network.
—
Google Intends to Bid in Spectrum Auction If FCC Adopts Consumer Choice and Competition Requirements,
Press Release, Google, 20 July 2007 The Google 20 July letter actually says a minimum of $4.6 billion, so it will be interesting to see if Google bids up from there, not to mention who tries to outbid Google.
Meanwhile, I got a laugh out of this:
Google's efforts are not without their critics, however. The Cellular Telecommunications Industry Association (CTIA) has dismissed Martin's plan as "Silicon Valley welfare", claiming that it gives Google an unfair advantage.

John Walls, vice president of public affairs at the CTIA, said that the pledge re-affirms his organisation's belief that the proposed deal smacks of foul play.

"The letter highlights Google's scheme to have the auction rigged with special conditions in its favour," he told vnunet.com.

"Nobody should be able to buy a custom-fit government regulation tailored to their business plan."

— Google pledges $4.6bn to free wireless spectrum, Search giant vows to meet FCC's reserve price, Shaun Nichols in California, vnunet.com, 23 July 2007
The irony of a telco trade association rep saying that….
-jsq