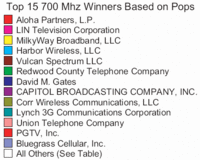 There are other issues in 700Mhz spectrum allocation than AT&T's bottom line:
"It is a life or death issue," said Harold Hurtt, Houston Chief of Police and President of Major Cities Chiefs, an organization that represents 63 of the nation's largest police organizations. Hurtt made his comments in a video interview distributed during the Association of Public-Safety Communications Officials (APCO) International 71st annual convention in Denver.

— 700 MHz On The Line by samc, dailywireless.org, Monday, September 5th, 2005 at 1:00 pm.
And some of that spectrum has already been allocated.
AT&T just cherrypicked the biggest previous 700Mhz spectrum holder, Aloha Partners,
but there are more than a dozen others. Don't be surprised if some of those get gobbled up, too.
-jsq