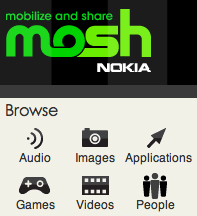 I'm always complaining about the telephone companies, so this item is refreshing:
When George Linardos was ordered to clear his diary to help dream up new business for Nokia (NOK1V.HE: Quote, Profile , Research), he imagined six weeks brainstorming on the terrace of a five-star hotel in the Caribbean.

What he got was a pot of porridge every morning at a Spartan hotel hours from Finnish capital Helsinki, with forests and snow all around.

Seeing the same half a dozen faces for 45 days and craving greater social interaction, Linardos and his team came up with a site aimed at making informal networking easier, especially for people without access to a PC.

The result, Mosh (http://mosh.nokia.com/), a social networking site that is accessible from mobile phones, is the latest piece in the puzzle for Nokia as it tries to build an Internet stronghold to balance a maturing cellphone business.

— Nokia's Mosh marries mobile with social networking, by Tarmo Virki, Reuters, 23 October 2007
Not only invented something, but something the inventor personally wants to use! This is the way Unix got invented, and Linux, by that other Finn, Linus Torvalds. I don't know how successful Mosh will be, but that's not the point, no more than how well a talking dog talks. And it's also beside the point that the invention simply crosses two existing ideas: mobile phones and social networking web sites. Many inventions are like that. A telephone company invented something!
Of course, it wasn't a U.S. telephone company.
-jsq