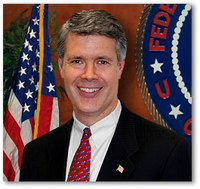 The Post has some interesting analysis of which FCC commissioners said what when they approved Chairman Kevin Martin's 700Mhz wireless auction plan:
The "open-access" provision was endorsed last month by FCC Chairman Kevin J. Martin, a Republican, and gained support from the two Democratic commissioners, Jonathan S. Adelstein and Michael J. Copps. Deborah Taylor Tate, a Republican commissioner, also voted in favor of the deal. Martin said he hoped the proposal would encourage a new entrant to compete with the cable and phone companies that provide broadband service.

Republican Commissioner Robert M. McDowell voted against the proposal, arguing that placing any conditions on the sale of airwaves would hurt smaller carriers by making smaller licenses without any requirements appealing to larger bidders.

"Smaller players, especially rural companies, will be unable to match the higher bids of the well-funded giants," he said.

— FCC Approves Airwave Use For All Phones, Wireless Network Opened To Options if Not Firms, By Kim Hart, Washington Post Staff Writer, Wednesday, August 1, 2007; Page D01
It's not clear to me where the bigger players will find enough smaller licenses without any requirements to be worth their while. Unless those licenses are also attractive because of the
Universal Service Fund
.
What did the corporate players say? Continue reading →